Inches from Death to a Life of Hope
Misti's Story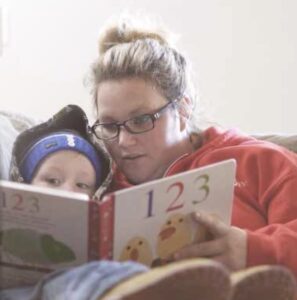 Misti came to Shepherd's House hours away from ending her own life; distraught, confused, and desperate. She had reached the end of the rope, but God has other plans; There was not only healing for her but there was also generational healing for her whole family. Her story illustrates this unlikely outcome.
"I had used drugs for over twenty years. My dad was an addict and my parents divorced when I was 2, so I was raised by a single mom. For most of my life, I was high on drugs but still a functioning addict. I could keep good jobs and had pretty good relationships. I had four kids and was a hard worker.
But, my drug problem got really bad. I used drugs to take away my pain, but they never did. My life was a mess and I was not a good mom. I had to give my kids up, which was better for them than I did.
I had been in and out of treatment centers for a long time, but they just scratched the surface. I felt so much pain and shame because of my addiction and for losing my kids. I got to the point of suicide and………….
knew I needed help, or I would be dead.
Then, I met someone who had joined Shepherd's House Ministries. He talked about how his life was transformed and how they could help me. As a last hope, I called and they had an opening!! At first, I was pretty skeptical that this would just be another short stay in a treatment center that wouldn't help. I was also concerned about living in a home with a lot of other women.
It was nothing like that. Being in this recovery home has been amazing. This place has changed my life and living in a home with all these other women and their kids have been easier and better than I thought. They all care deeply — we have each other's backs, and it means a lot to have so much care and support. I have gone through a lot of healing here, and now my youngest son, Jaxson, who is 3, is able to live here with me. When he first came, he was out of control. He wasn't potty trained, he threw tantrums, and he was uncaring and untrusting. I wanted to be a good mom, but I did not know how to handle him. And, my biggest fear was that my kids would just grow up to be like me.
One of the great things here at The Shepherd's House is that my son and I go to counseling together. They are helping me and my son to figure things out, and that means so much to me. In just a few months we have developed a great bond, and he has changed so much. He is now potty trained and shows such good behavior. He always says, "I love you, mommy." He is just a kid now and he loves it here. I am learning how to parent and care for him. I have learned that I can be a good mom, the mom my son needs. And, The Shepherd's House is helping me to reconnect with my other kids as well. I recently saw my mom and she was shocked at how much I had changed. She said, "I have never seen you like this before. This place has given me the daughter I never had."
Being here was the hardest and best thing I have ever done. I had to face all the bad stuff I did that I just wanted to forget. I had to deal with my addictions and learn to make good choices and decisions. So many times I wanted to quit, but the people here really encouraged me, and the key to it all was God's grace and forgiveness. I learned that God loves me and that I could be sober and even learn to be a good mom. Knowing this was a game-changer for me.
I graduated from The Shepherd's House in May, got a job I love, bought a car, and live in a nice apartment with my son. He is in a Christian school and is doing so well. I even help on a hotline for people in need and at risk, and was able to direct two girls off the streets into Shepherd's House. I am so grateful for my time at The Shepherd's House.
Since the time Misti told this story, things have taken off in her life. She is thriving now, has two of her four kids under her roof at a really nice apartment in Bend. She is working hard every day, volunteers with a recovery ministry in Bend that helps others who faced what she did and has learned that generational healing truly has a ripple effect across the lives of many.
In her own words just this past month Misti shared some thoughts about her life. "He is reminding me that this work I'm doing is that of not just a good mom, but a great mama. The tasks given to my generations before were never fulfilled. I've already shown my children that I'm dedicated to breaking free from the trauma-based lifestyle my family history has known. This is real hope."
Helping others like Misti is why Shepherd's House exists. Others need the chance at the healing she experiences. Would you consider being a part of that story? Would you help more like Misti? Youn can make a financial contribution here.