Brian's Story: No Shame at Smith Rock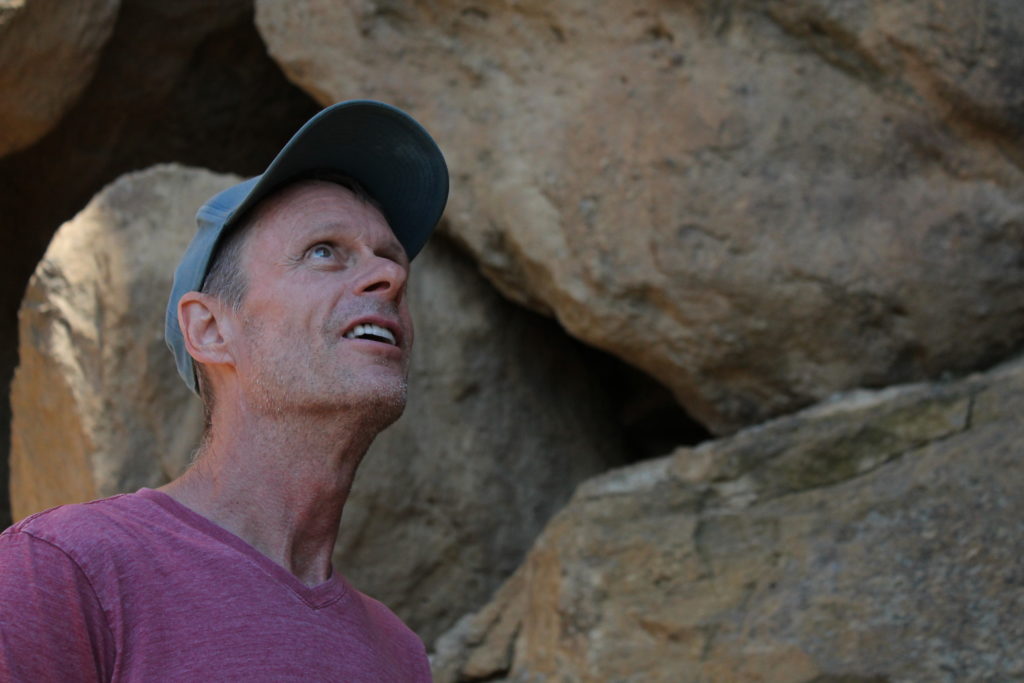 It is no secret that Cash Lowe, our Organizational Chaplain, is an avid outdoorsman. Nature is a haven for him, like so many others – a place to find peace, comfort, to challenge yourself and to expand.
The programs at Shepherd's House Ministries have a large outdoor activity component, and Cash is one that facilitates frequent rock climbing trips with both the Men and Women's Center residents.
If you are a climber or have been on a climbing excursion, you have most likely experienced the fear, thrill, adrenaline, and community that serves as a unique bonding agent amongst the group.
Cash takes me through a specific excursion that holds a special place in his memory:
"We head into the canyon at Smith Rock State Park for a day of climbing. With all the gear we head to our route and set up. It's a busy day and other groups of climbers have set up shop on either side of us.
There is a buzz amongst the group, being out of the house and taking deep breaths of fresh desert air puts the men in a different state of mind.
It is important to remember that for these guys being outside can have negative connotations that bring up deeper emotional triggers. There is a process that takes place as these men learn to put the outdoors into the context of adventure and play, versus an unforgiving place of danger and shame.
It is also important to recognize the amount of trust it takes to tether yourself to another human who becomes responsible for your safety. You put your life into someone else's hands. This trust can be difficult for many people, but for these men, it is a giant step in the journey of trusting us to protect them as they experience something new. For us staff members, it gives a pretty clear insight into who struggles more with trust, and who we might need to spend more intentional time with.
The guys take turns roping up and taking on the challenge, and there is plenty of comedic relief going around as we work together to overcome fear and celebrate with each other in our bravery.
As Brian stands to take his turn on the wall, I notice scuffs and bruises on his legs. Laughing, I tell him that he should try climbing with his feet instead of his knees. He laughs and replies, "Yeah, these ones are from climbing . . ." – he points to different scuffs – ". . . but these ones are from when I used to shoot meth!"
The group erupts into laughter, myself included, knowing that the people on either side of us have heard what he just said.
I smile thinking of this moment because I can tell that Brian feels accepted. Shame usually keeps these remarks hidden, and he could have easily shied away from my comment about his battered knees in pain from his past – but instead, he laughed alongside me.
Brian begins his ascent on the rock, scrambling skyward as we watch from below. Some of the others offer encouraging words as he makes his way to the top.
As he reaches the anchor at the end of the route, he stops and sits in his harness. It falls quiet as I hold him there.
"Brian, what do you think?" I call out.
Pause, as he turns to face the valley below him, and the desert stretching out to the cascades.
Then, from the top of his lungs, "This is *bleeping* AWESOME!"
It echoes through the canyon, joined by the sound of our laughter and cheering. Pure and authentic joy just radiating from him, as I lower him safely to the dirt floor.
This story stands out in my mind, and not just because it was hilarious to watch our neighbors observe our raucous group of men. It was a raw moment, that reminds me of how important trust and acceptance are in all of our lives.
It is fundamental in building healthy relationships. It is critical to a support system that helps us to overcome hardships and to make decisions throughout life.
For these guys, trust and acceptance have not been accessible. What we see when we go outside together, is that we can dig into these wounds in a much deeper way, and at a surprisingly fast rate. Nature has a way of breaking something loose, and as we walk the trails together, fish together, climb together, we can process together in a very natural setting.
We experience these amazing moments of growth and connection when we take the time to prove we are trustworthy, we are not judging, and we are going to show up consistently. It takes time to build real trust in these relationships, but when that foundation is built, it makes room for so much healing.
We do not shy away from the realities of where these guys have been. We talk about it, we are open about our shortcomings, our struggles, and our wounds. In the safety of healthy relationships, we can dive deep beyond the mask of behaviors or addiction.
Not only do the outdoor provide a great playground and a place for processing together, but they also give these guys a chance to fall in love with healthy hobbies."
Growing Forward Together
Because of donors like you, we are able to provide the staff, gear, and transportation, necessary for these excursions. Because of volunteers and generous local outdoor companies, we can keep these excursions a priority.
These excursions are just a snapshot of the greater picture here at Shepherd's House Ministries. They are just one way that we see our vision being played out in the lives of our residents. A way to grow forward together.
Will you partner with us as we grow forward? With your help, we can continue to not only provide critical resources needed for the most vulnerable in Central Oregon, but we can continue to address trauma and addiction on a deeper level within our Men and Women's Centers. Please, don't wait – donate today!
Partner With Us Today As We Grow Forward
Donate right now and make a lasting impact on the life of someone in your community of Central Oregon. Don't wait – these men, women, and children are counting on people like you!