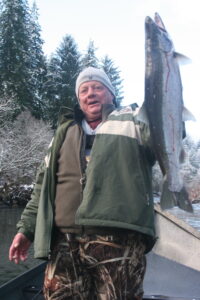 The call came while I was walking one of my favorite trails in the foothills of the Cascade Range; "I am sorry I have some sad news for you, Cash.  Dave passed away this morning at home . . . ."
I sat down on an old gray fallen tree beside the trail, early Fall changing the forest's colors all around me.  Even though Dave's passing was not unexpected, the news always hits like a blow from behind.
Yep, there was sadness, but it was not all bitter.  The last three years of Dave's life were filled with connection, love, and laughter.
Dave had come to us 'tore up from the floor up' as they say on the street.  Very quickly Dave knew he had found a home with us and settled in as a member of our family.  Dave went through our long-term recovery program and then joined one of our extended-living communities where he bonded hard with the other men living there.  Sitting beside the trail I thought this is exactly why we do what we do so people who were without a home can have a home and know they are loved for the rest of their lives.
As I stood up from my forest seat and began to walk on through the woods one of my favorite memories of Dave came back to me.   It was from his early days with us, he had probably only been with us for a month or two.  When he first joined our program he would eagerly sign up for all the outdoor adventures his body would permit: One of these was a Steelhead fishing trip on one of Oregon's coastal rivers.  Most people spend weeks, or months, even years trying to catch one of these elusive sea-run fish.  On one sunshine-filled Winter's day, Dave, with a little help from his friends, caught five Steelhead.  FIVE!  I told him that day I thought God loved him very, very much.  His smiles and laughter from that fishing trip will be with me forever.
Or the time I'd taken a group of the men to the climbing gym and Dave, roped in and halfway up one of the big walls when the person next to me exclaimed; "Man, Dave sure is doing good for a guy who was in the hospital with a heart attack three days ago."  Dave was all-in even in the midst of poor health.
Dave was fairly sick when he came to us and his health steadily declined over the last couple of years.  In the end, Dave spent most of his time at home, venturing out mainly for his medical appointments (and, of course, bowling).  But I definitely see the last few years of Dave's life as a victory of sorts.  He was no longer lost in the pain and loneliness of addiction, he was among friends whom he loved and who loved him, and he spoke often about his future home with Jesus.  He came to us homeless but with us, he found a home.  Most importantly he knew he was dearly loved to the very end.
Even though I am saddened by his death, I wanted to share Dave's story with you because your partnering with us allows us to give homes to the homeless and love to the lonely.   Thank you for your commitment to, and care for, those who are homeless and friendless in this world.
Thank you for your love and commitment   We appreciate you so very much.