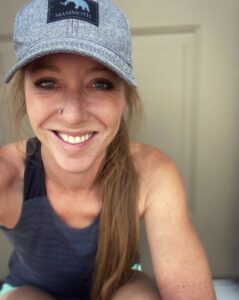 Meet Emily, an incredibly strong woman, domestic violence survivor, ultra-runner and champion for Shepherd's House. Emily will be running the Moab 240 Endurance race to raise money for SHM. You can help Emily reach her goal by donating here: https://gofund.me/497deb1c
Eco Wellness is a huge part of our recovery program. The outdoors has a tremendous ability to help individuals deal with trauma and aid in their recovery. Whether through exercise, wilderness activities or just appreciating the disconnect from the day-to-day – it can be very therapeutic. Read Emily's story here:
Tell us a little about you. How did you come to Bend and what is your connection to SHM?
I am originally from the east coast (Buffalo, then Lake Placid NY) and moved to Bend in 2017 after hiking the Pacific Crest Trail in 2016, and recognizing that the west was where I wanted to live. I came to learn about SHM through various advertisements and their community involvement, but it wasn't until the past year that I learned just how valuable a resource they are.
Tell us about this race you are doing? How long is it? When is it? Is it just you or do you have a team?
The race I am doing is the Moab 240 Endurance Run in Moab, Utah from October 8-12. I will have 112 hours (about 4 ½ days) to complete the miles, which are on a single counterclockwise loop course that traverses two major mountain ranges. There are around 250 runners registered. Last year, I believe half of the starters finished. I will have a team, or crew, with me, including a friend who will be taking photographs at aid stations and helping to shuttle/organize my pacers- a few friends who will be taking turns running sections of 13-22 miles with me throughout the day and night. They will help motivate and encourage, keep me from quitting when I threaten to, and help me stay sane as the hours go by and my body and mind get a little funky. For safety, it's good to have a pacer especially in more remote areas. Not everyone uses pacers, but for me, this is a race I'm excited to share with some good friends who know me well and can make the experience even better.
Why did you choose to fundraise for SHM?
I chose to fundraiser for SHM because when I moved to Bend, I was in a relationship that involved domestic abuse- a lot of emotional abuse, a little physical, but overall very difficult. In fact, I had been in this relationship on my trek of the PCT, and it lasted about a year into living in Bend. When I signed up for the Moab 240 and thought of fundraising, there were two reasons- first, to give back to the community where I spend so much time training alone, and to have a reason bigger than me to keep going, and finish the race. Initially, I wasn't sure I would be comfortable talking about and sharing my experience publicly, but the more I have, the more I've heard from others who identify with my story, in a variety of ways. I didn't know about SHM when I moved here, or when I was desperate to get out of the situation I was in. Now that I do, and now that I know what they are able to help with, I want to also encourage others to reach out and seek help, and make sure people know about SHM as a resource for refuge from domestic violence.
How long have you been running?
I have been running ultra distances for almost 3 years. Prior to hiking the Pacific Crest Trail, I was an endurance dayhiker and had done some backpacking, but I ran my first trail race just prior to moving to Bend, an 11.5 mile run in the Adirondacks. My longest distance so far is 100 miles. I train pretty much every day now, running 50-90 miles per week. I do incorporate a lot of mountaineering, hiking, skiing, and strength training as well.
Often people say endurance running is an emotional activity, do you find that to be true? Is there often an emotional release?
For me, running mirrors everything else in life: some runs come easy, some are hard or I feel really tired or sore or unmotivated. Some are more beautiful than others, but they're all productive. I always feel good afterward. I love the way my body feels- strong, competent, and powerful. Some runs can be emotional. I almost always listen to music while I run if I'm alone, and I do this to give me motivation, rhythm for my cadence/pace, and sometimes to draw on emotions. There have been runs that are cathartic or have a sense of emotional release. I view my daily training runs, which vary in length, intensity, and structure, as my job- something I need to do that day, and when I complete it, I feel accomplished. I do almost always enjoy at least aspects of every run. We have amazing trails in and around Bend.
You are an inspiring example of overcoming challenges, what advice would you give to someone in a similar situation as what you experienced?
Thank you! Life is so much about encountering challenges. And your response to them, the experience throughout, what you learn, and how you live your life thereafter. I could look back and wish I had done things differently, but my life is made up of so many experiences- and what I have now, I am so grateful for. I would tell someone in a similar situation to what I had experienced regarding relational abuse, that life gets better. It can be so much better, and when you're in the muck and the hard stuff, it can be so difficult to see that- it can be so difficult to take the steps to make change. But your life is 100% worth it. I am so glad SHM is a resource for women especially, or anyone who needs to leave a bad situation. I'd encourage others to keep talking to friends; family; trusted acquaintances- anyone who can make you feel less isolated. Even with a lot of support, I struggled to accept that it was up to me to leave the relationship I was in. Today, I look back and see how it can happen to absolutely anyone.
I would also say to anyone on the outside, observing relational abuse- please don't be a silent onlooker. Please say something- don't let it happen right in front of you. That makes it even more difficult, when things happen out in the open and no one says anything. If anything, be a resource, a comfort, an ear who can listen.